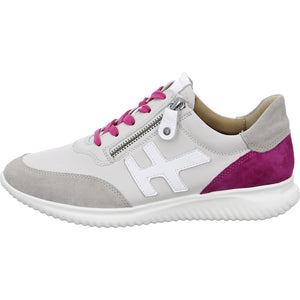 Breeze - White/Pink
Hartjes key features:
For more than 6 decades, HARTJES has stood for comfortable and functional shoe fashion of the highest quality – well-grounded on traditional Austrian shoemaking craftsmanship.
The integrated climate management, the removable light cork footbeds, and the linings made of natural materials like lambskin and loden are some of the numerous innovative details representing the constant pursuit of continual optimization of their shoes through in-house developments and state-of-the-art technology.
*****FRANÇAIS*****
Caractéristiques principales de Hartjes:
Depuis plus de 6 décennies, HARTJES est synonyme de chaussures confortables et fonctionnelles de la plus haute qualité - 

bien ancrées dans le savoir-faire traditionnel de la chaussure autrichienne. 

La gestion intégrée du climat, les semelles amovibles en liège léger et les doublures en matériaux naturels comme la peau d'agneau et le loden sont quelques-uns des nombreux détails innovants r

eprésentant la recherche constante d'optimisation continue de leurs chaussures grâce à des développements internes et à l'état de la technologie.
---
We Also Recommend