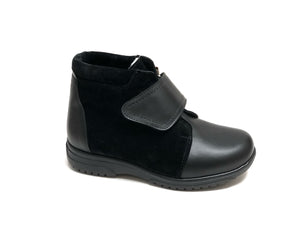 Venus - Waterproof Leather - Black
Saute Mouton key features:
Manufactured by local employees in Quebec City
Specially treated waterproof leather
Highly resistant leather to salt stains
Fully breathable leather

Saute-Mouton boots require very little care. A damp cloth is sufficient to remove salt stains. Shoe polish can be applied as needed.
********** FRANÇAIS**********

Caractéristiques principales de Saute Mouton:
Fabriqué au Quebec
Cuir spécialement traité à l'épreuve de l'eau
Offre une résistance supérieure aux taches de sel
Laisse évaporer la transpiration

Les bottes Saute-Mouton nécessitent très peu d'entretien. Un chiffon humide suffit pour enlever les taches de sel. Un cirage à chaussures peut être appliqué au besoin.
---
We Also Recommend